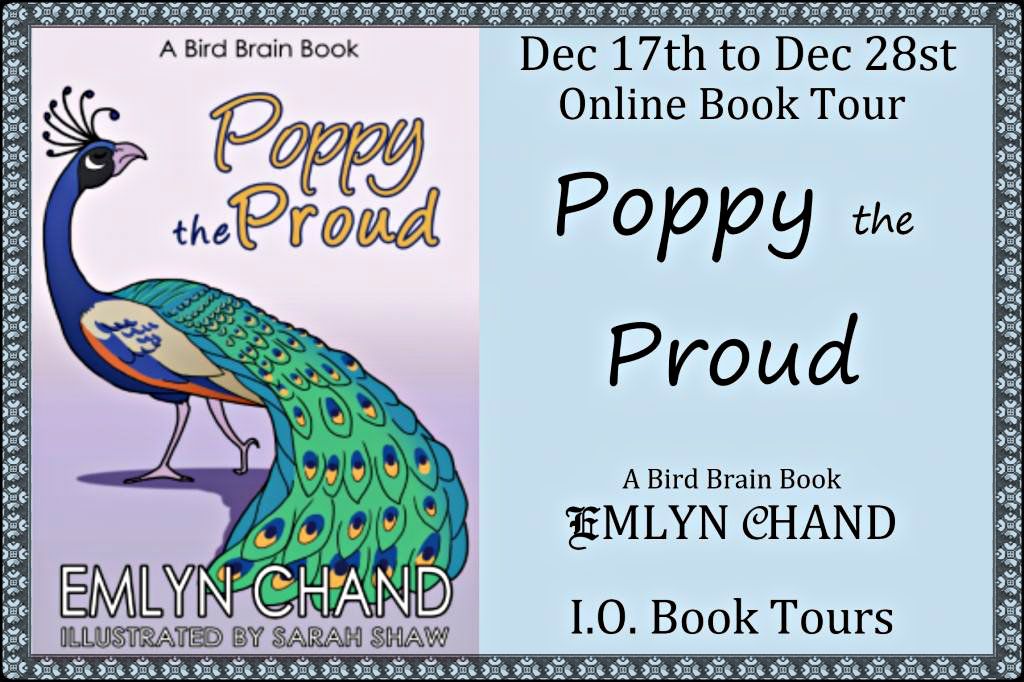 BLURB:
Poppy is the prettiest peacock in the entire garden, but one day his privileged existence is upset when an all-white peacock is born and promptly named the most beautiful by a smitten flock. Intensely jealous, Poppy no longer knows where he fits in and decides to reclaim his title as the fairest bird in all the land, no matter what it takes.

In a desperate attempt to regain the admiration of his peers, Poppy steals items from the humans that visit his park. He wraps himself in a beautiful silk scarf, wears a series of ornate bangles around his neck, and even tries to dye his feathers with colored dust from a festive Holi celebration. Unfortunately, each of these attempts not only fails to improve his appearance, they actually make it worse. What's a poor bird to do?

In this compelling tale of self-esteem, pride, and learning what makes each of us special, Poppy the peacock discovers that true beauty lies beneath the feathers.
**My thoughts**
I enjoyed this fairy tale. It is a story that has been told so many different ways over the years, yet continues to be relevant. Children need to learn compassion for each other for who they are. Snow is an excellent role model for acceptance. Children also need to learn to be happy for being themselves. Poppy eventually learns this lesson. I think many children will easily learn the lesson contained within and will be able to relate to Poppy.
The illustrations were fun and captured the gist of the story.
This is a story I would recommend for children ages 4 and up.
I shared this story with a six year-old boy. He also enjoyed the pictures, exclaiming, "Wow!" every time I turned a page to reveal a new illustration. He chuckled here and there as Poppy made a fool of himself, trying to show off. He smiled when Snow helped Poppy realize that he was still beautiful in his own way.
He gave me the following review:
"Tell the author that I felt sad when the other animals were making fun of Poppy. And tell her that I felt happy when Snow made Poppy feel better. And tell her that I liked her book."
So, there you have it, out of the mouths of babes.
I continue to look forward to reading more of the books in this series.
BIO:
Emlyn Chand emerged from the womb with a fountain pen clutched in her left hand (true story). When she's not writing, she runs a large book club in Ann Arbor and is the president of author PR firm Novel Publicity. Best known for her Young Adult novels, she is also developing a small, but devoted, following to her children's book series and is beginning to dapple in other genres as well. Emlyn enjoys connecting with readers and is available via almost every social media site in existence. Visit EmlynChand.com for more info. Don't forget to say "hi" to her sun conure Ducky!
ONLINE LINKS: